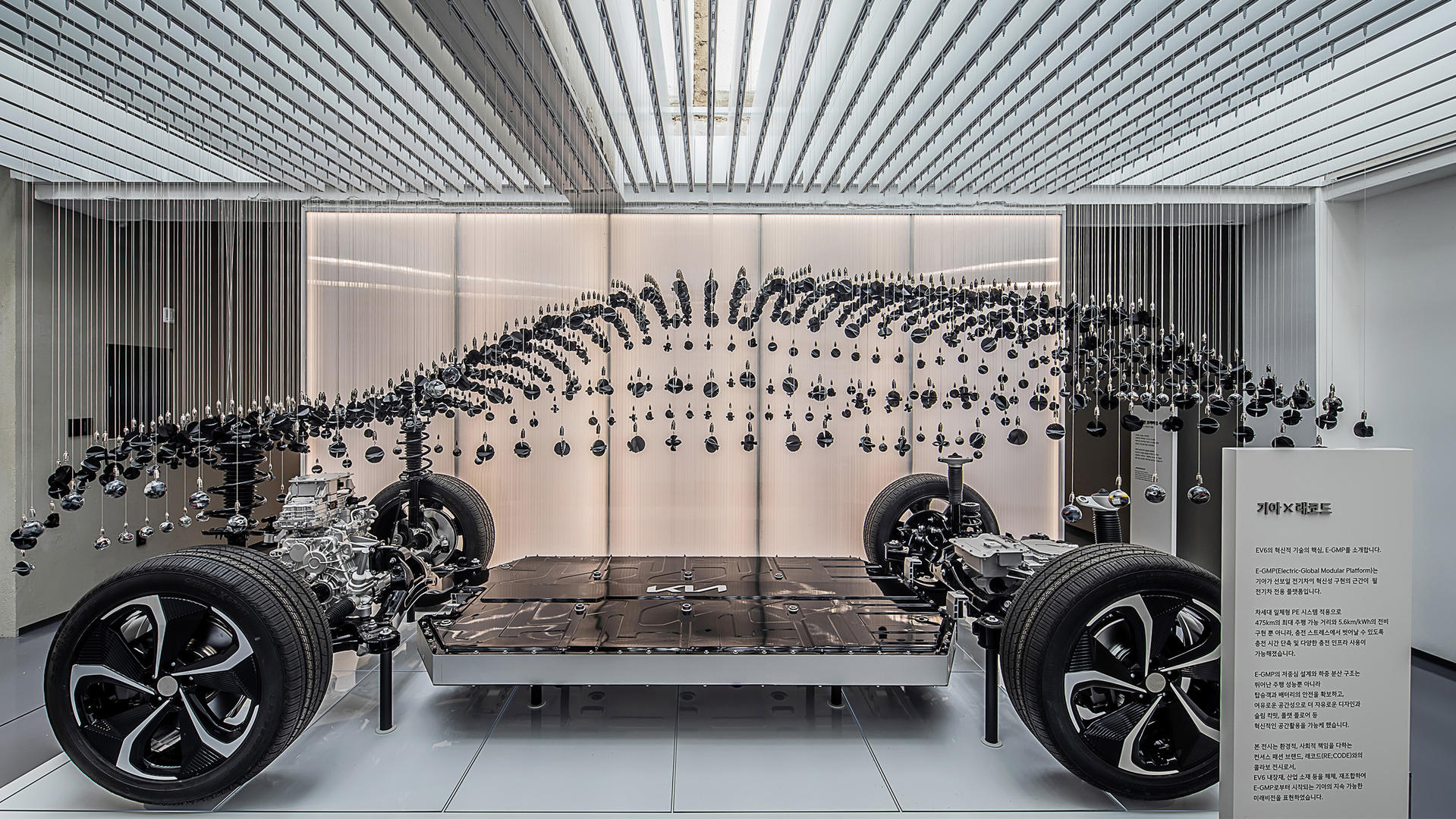 Showcases EV6 objects made from upcycled materials at EV6 Unplugged Ground Seongsu
Conveys the meaning of upcycling through cross-sector collaboration
RE;CODE, the upcycling fashion brand of the KOLON Industries FnC Organization (KOLON FnC) will hold an exhibition on sustainability at EV6 Unplugged Ground Seongsu, Kia's cultural complex, on August 27.
This exhibition will showcase future mobility that has become part of our daily lives and provide a chance to experience it. It is divided into six zones, and you can find RE;CODE in the EV6 Inside Zone and EV6 Lounge Zone
The EV6 Inside Zone, which introduces the Electric-Global Modular Platform (E-GMP), the core technology of EV6, features RE;CODE's artistic objects made from upcycled materials. This exhibit was designed to highlight "sustainability," an important value for both RE;CODE and EV6, while demonstrating RE;CODE's "creativity through dismantling and recombination" and EV6's "creative fusion of opposing concepts." "Dots," the basic element of figures, are used to portray E-GMP, the core EV technology platform, with the organic sets of dots symbolizing the creation of new things.
RE;CODE created round objects by mixing EV6 sheet material discarded in the sampling stage, some of the scrap car accessories, and labels, which are subsidiary materials for clothing, and have them suspended over E-GMP, resembling the sporty design of the EV6.
In the EV6 Lounge Zone, you can find RE;CODE's upcycling bending machine.
The bending machine sells upcycled goods made by dismantling and recombining by-products of automotive interior materials such as airbags and car seats. Items including strap keyrings with a seat belt motif, card wallets made from car seat material, AirPods cases, and airbag pouches are available for purchase. The packaging of the bending machine products was also designed to be reusable as a piggy bank, in line with the concept of sustainability. The staff uniforms were also specially produced by RE;CODE by using scrap fabric left after production at its manufacturing facility.
"As a leading upcycling fashion brand, RE;CODE has been collaborating with brands in diverse areas. Through a collaboration between the two different sectors of fashion and automobiles, we have approached sustainability from a fresh perspective," said Ha Byeong-cheol, brand manager of RE;CODE. "RE;CODE will continue to bring the sustainability of fashion to customers across sectors."