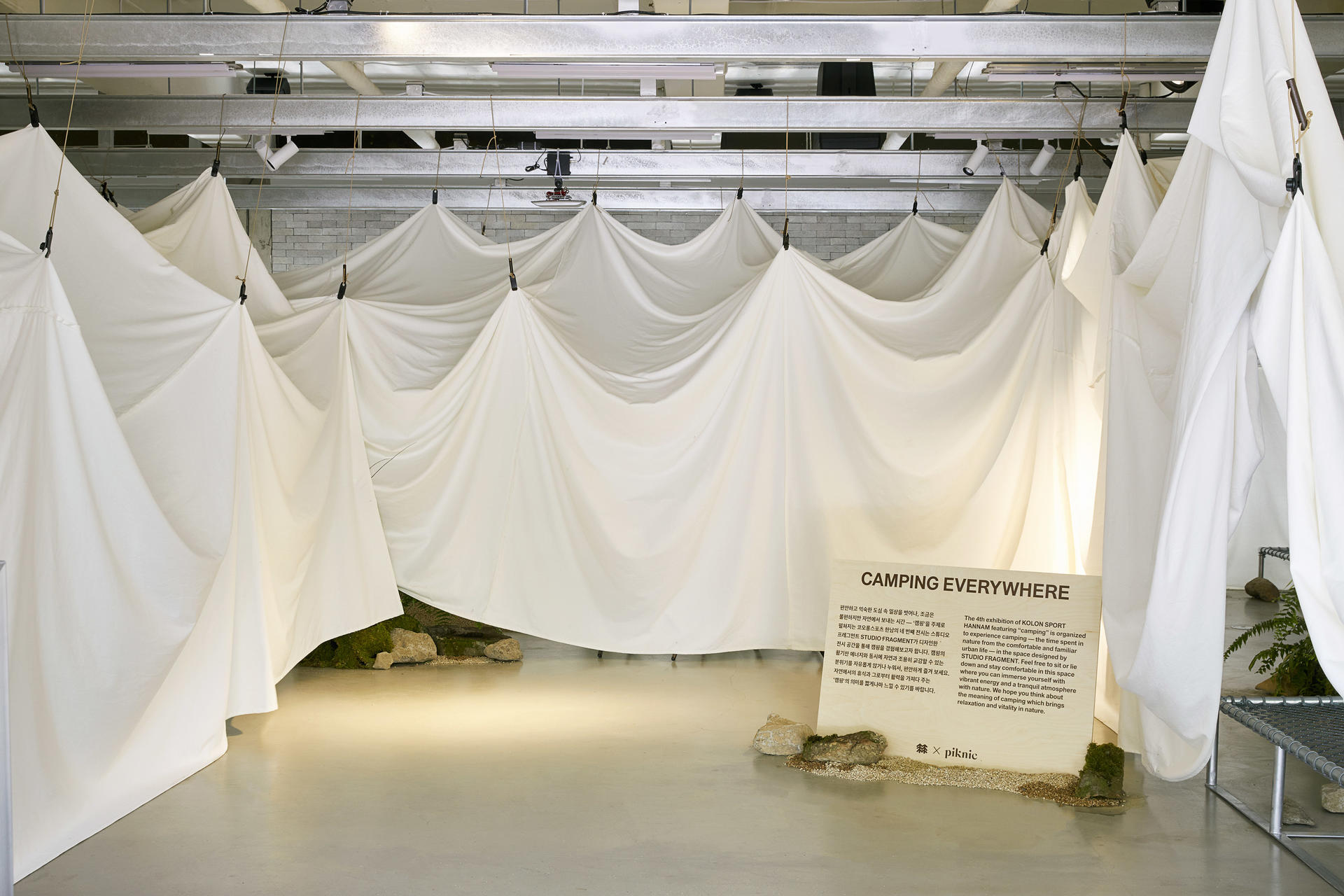 The fourth exhibition with Glint at the Hannam flagship store

Using materials for camping equipment in the exhibition...Recreating the relationship between nature and camping through a nature-infused experience that stimulates the five senses
KOLON SPORT, an outdoor brand of the KOLON Industries FnC Organization (KOLON FnC), is holding the fourth exhibition "CAMPING EVERYWHERE" at the Hannam flagship store from June 19 to August with the exhibition agency Glint. In time for the summer camping season, the brand wants to delve into the meaning of "rest" found from camping in the form of an exhibition.
This exhibition features installation works designed by Studio Fragment, a space design group. Studio Fragment conveys the meaning of space using metaphors with the focus on the flow of views provided by a specific place.
CAMPING EVERYWHERE expresses the topography of a mountain by using the materials of items that make up the largest structure of camping such as tents, tarps, and hammocks, and to give a camping-like experience by arranging a resting space. It provides sounds and images of nature so that you can enjoy a time of contemplation while communing with nature. Although it is an exhibition, you can freely sit or lie down and have a comfortable time.
At the exhibition, you can hear ASMR sounds from outdoor camping, such as the sounds of flowing water and wind, a bonfire, grass insects, and rain, through super-directional speakers. An installed fabric acts as a screen, providing a view of the slowly changing Lake Constance bordering Germany, Austria and Switzerland. You can also find sentences with the keywords "rest," "travel" and "time in nature."
Park Seong-cheol, Brand Manager of KOLON SPORT, said, "Exhibitions at the KOLON SPORT HANNAM flagship store always feature nature. This exhibition on the theme of camping allows you take a quick break with nature in the middle of a city. I hope you enjoy the exhibition like a midsummer getaway."