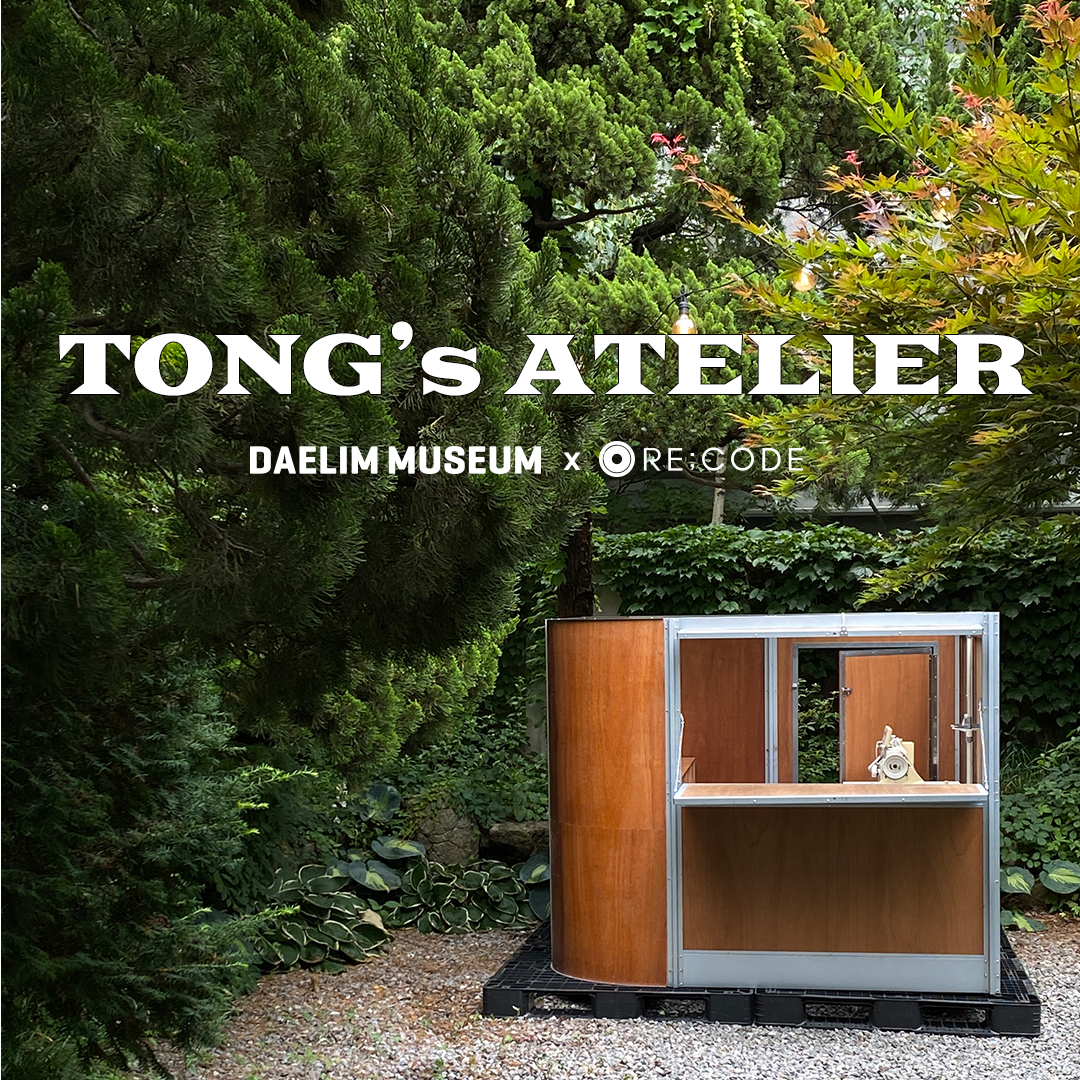 Experience upcycling at Museum's Next Door!
Offering a reform service and a DIY workshop...a hands-on event where you can experience upcycling
RE;CODE, an upcycling fashion brand of the KOLON Industries FnC Organization (KOLON FnC), is holding a hands-on event with Daelim Museum. On the sideline of the exhibition "TONG's VINTAGE: Tong's Bizarre Everything Store " at Daelim Museum, "TONG'S ATELIER" will be held from June 18 to July 24 at Museum's Next Door, a cafe located next to Daelim Museum.
TONG'S ATELIER consists of "BOX ATELIER," RE;CODE's reform/repair service, and "D.I.Y. WORKSHOP," where you can make a DIY coin case using stock fabric for car seats.
BOX ATELIER will transform T-shirts that customers brought to TONG'S ATELIER into one of three styles. The first is "Half and Heart," where two t-shirts are reformed into one. This product is the perfect entry item that helps you understand upcycling easily with the design that was also presented in the RE;NANO collection of RE;CODE. In addition, existing T-shirts are transformed into crop T-shirts and sleeveless T-shirts.
You can also experience D.I.Y. WORKSHOP hosted by RE;CODE.
Car seat fabric used for automotive interiors is produced in various ways for sample development and left in inventory. RE;CODE has prepared a workshop where you can make a DIY coin case using stock car seat fabric. It provides you a chance to experience the work of adding new value to obsolete items.
TONG'S ATELIER is available for free, and you can participate in the event by making a reservation through NAVER and selecting the desired date and time before visiting. The BOX ATELIER process takes one hour from consultation to completion.
Ha Byung-cheol, Brand Manager of RE;CODE, said, "RE;CODE is running various campaigns that not only introduce fashionable upcycling items but also bring upcycling to your everyday life. The "TONG's VINTAGE: Tong's Bizarre Everything Store" exhibition is also in line with the vision of RE;CODE, which introduces items using various everyday materials that could otherwise be thrown away. TONG'S ATELIER will allow you to experience upcycling in everyday life."