Golf is a trendy emoticon theme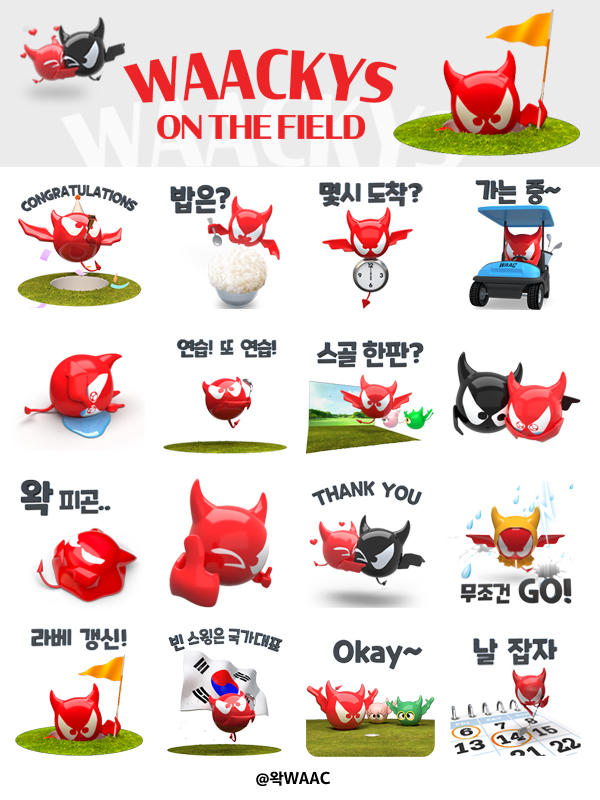 (Photo description: A total of 75,000 emoticon sets published by WAAC sold out in one hour)
WAAC, contemporary performance golf wear of the KOLON Industries FnC Organization (KOLON FnC), set a record of selling out 75,000 emoticon sets within an hour of the release of WAACKY, the brand's social media emoticon series, on May 7.
WAACKY, which is the official character of WAAC and the main character in the emoticon series, is a symbol that helps you win by distracting opposing players. Since 2016, WAAC has released a variety of unique WAACKY series with a different concept for each season.
The emoticons released this time by WAAC are themed with "WAACKYS ON THE FIELD" and composed of 16 items that are highly useful for golfers. Funny emoticons featuring various golfer stories include "National Team Member When Practicing Swings," "New All Time High!," and "Wanna Play Screen Golf?"
Earlier, 25,000 sets of WAACKY emoticons published in March also sold out within 24 hours. As a result, the number of friends on the brand's KakaoTalk channel increased by about 200%. WAAC is strengthening communication with customers by keeping them up to date on brand-related news such as new product launches and discount information.
To celebrate the launch of this KakaoTalk emoticon series, WAAC offers a 10% discount on purchases of KRW 300,000 or more of WAAC products on KOLON MALL (www.kolonmall.com), the official online mall, until May 31.