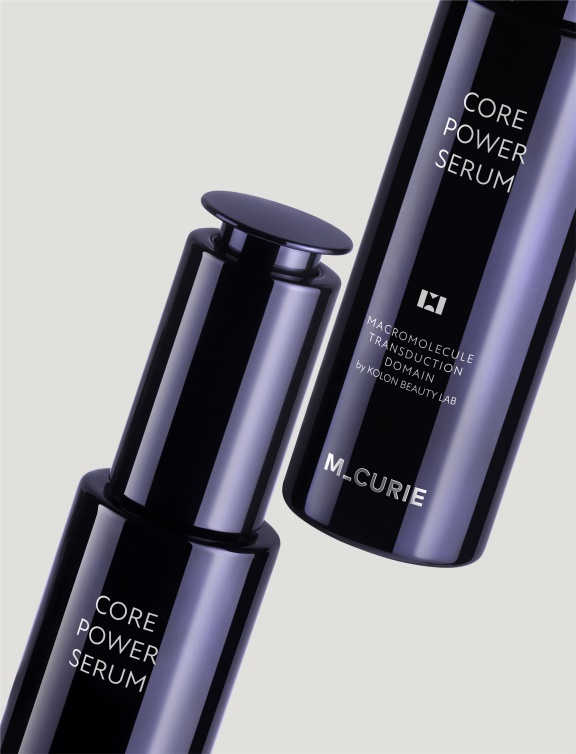 (Photo description: KOLON FnC is re-launching its premium brand M_CURIE)
Improved firming, moisturizing, and anti-aging effects… The target consumer group adjusted to people in their 30s and 40s
The KOLON Industries FnC Organization (KOLON FnC) will re-launch its cosmetic brand M_CURIE on April 12. Unlike the initial launch in 2019, M_CURIE aims to become a "premium anti-aging skincare brand" by reinforcing its anti-aging function targeting people in their 30s and 40s.
To this end, M_CURIE will actively leverage MTD-EGF based on its proprietary technology MTD. MTD-EGF helps deliver EGF, a cell growth factor that reinforces the core of the skin and restores its elasticity, deep into the skin safely and effectively.
M_CURIE is applying MTD-EGF to all products and newly introducing the Core Power line. It upgraded the MTD technology of the Feel the Volume Master line, which was the best seller last year. All products have been tested for skin density and safety.
First, CORE POWER SERUM restores the elasticity of the core. The Core Synergy Booster, composed of low molecular peptides and mild moisturizing ingredients, boosts energy and provides elasticity. The non-sticky texture is also ideal for use in summer.
CORE POWER SERUM is an ultra-hydrating product that increases skin density. It prevents the skin from drying out and forms a firming moisture layer, strengthens the skin barrier, and improves elasticity.
Lastly, CORE POWER SHEET MASK provides an instant moisturizing effect as its ultra-adherent elastic sheet adheres tightly along the face line.
M_CURIE plans to gradually expand its product line containing various skin-improving ingredients based on MTD technology.
"To keep your skin healthy and radiant for a long time, you need skincare that delivers in-depth hydration, not just moisturizing the skin surface," said Choi Su-oh, the head of the Beauty Business Division[김은미1] . "The products made with M_CURIE's proprietary technology will deliver a whole new level of elasticity and radiance to your skin."
Before the official launch, new products will be pre-released on KOLON MALL, KOLON's official online mall (www.kolonmall.com) on April 9. As a promotional event, a three-piece set of mini serum, cream, and mask will be given to M_CURIE customers purchasing a serum.
With the re-launch of M_CURIE, Kolon FnC has diversified its beauty brands from a premium brand incorporating state-of-the-art technology to LIKEWISE, an affordable cosmetic brand targeting Generation MZ.